2, 3, 1, 2, 3, 1 …over and under…. creating the braid…forming a strong hold…
Braiding for me is a hairstyle I forced my mum to learn when I was in primary school, it helped me look fashionable and keep my wild hair tamed (if only slightly). I have never really thought much more about other variations of braiding, it has always signalled hair for me. Any cultural associations I make with it, again stem to hairstyles.
~ Just three strands of hair entwining as one but nothing overly deep~
However, during my autoethnographic experience, this notion of braids being only hair related was challenged, in a very unexpected way.
~~~~~~~~
For my autoethnographic journey, I decided to explore the world of Japanese romantic anime, in the form of the 2016 film 'Kimi no Na wa '/ 'Your Name'. I chose this as I wanted to explore what relationships were like in Japan, although I got there eventually, I took a very unexpected route to learn more about the culture.
Quick summary without giving away too much: 'Your Name' follows the story of two teenagers, Taki and Mitsuha, in Japan from different backgrounds and sees their worlds collide in a very unusual way and showcases how the unconventional relationship is shaped over several years
~~~~~~~
Autoethnographic research "transcends mere narration of self to engage in cultural analysis and interpretation", this makes it quite challenging as an outsider and requires an open mind to ensure accurate interaction and understanding of cultures.
Kout and Yacine (2019) discuss how when approaching autoethnographic there are 'two selves' to help understand the culture you are a part of and the role in it. By understanding one's self more deeply and the bias's that we hold because of that, it will allow us to remove them to analyse another culture in a more genuine autoethnographic sense to build a respectful cultural understanding.
Before watching the film, I attempted to follow this idea and help break/control my bias surrounding expectations of what a romantic film would look like, so in doing so I thought about my culture. I had a very British up-bringing (I am Australian, and parents are from UK), with very little exposure to other cultures, particularly Asian. I considered how I would separate myself from these expectations and I just assured myself I would watch subjectively and attempt to not fixate on thoughts that seemed comparative to my own upbringing and push past these.
However, I will admit initially I, unintentionally, allowed my bias to create an expectation of what I would be watching i.e. typical romantic tropes of women being high maintenance and longing for perfection and males not looking for commitment but then finally admitting that is what he longs for . However, I quickly pulled myself up on it and re-centred myself for the viewing of the film attempting to stay fully objective, remembering comparing was not going to help me gain a sense of the culture.
~~~~~~~
I watched the film on Netflix and created a Twitter thread (linked below) for myself to document all of the thoughts running through my head.  I felt real time notes would be the authentic way to capture and follow my research in an interesting avenue. I noticed similar themes popping up, surrounding my love for anime designs (because please, the film is visually stunning) and the discussion surrounding these 'braids' that were used bracelets and we saw the process of them being made.  
Each time it featured on screen, I was engrossed and fascinated listening to them talking about it. I have never seen jewellery or art as particularly meaningful, excluding the basic sentimental aspects such as 'oh I got this Tiffany necklace for my 18th'.
And in relation to the artistry when I was younger I would make basic bead bracelets, like quite literally putting beads on a string so no real artform, and so I have never seen such intrinsic process and. although it is an animation, I could easily imagine the beauty of real life processes.
Below is a picture of two different designs for Japanese braids:
Some key Tweets that shaped my research include:
~~~~~~~
As you can see my own understanding of them became deeper, as in the first two tweets I described them merely as "threads" and then change to "braided cords", as I watched and listened more to the film.
I believe the featured Tweets helped sparked my two connected epiphanies "…Braids signify more than hair" and "jewellery can provide lasting connections…"
An epiphany is defined as "an identifiable moment of lived experience that one can identify as a turning point in one's understanding of oneself and one's relationship to the world", this is key aspect of autoethnography, the process of 'realisation' whether it be about yourself or a culture or the interaction of the two is what helps challenge biases and helps form stronger societal bonds.
~~~~~~
I knew I wanted to learn more and gain a deeper understand of what the braid meant for Japanese culture and see how correctly the film portrayed them. I was so intrigued that this was the aspect of the film I was drawn to the most.
The art of braided cords that is depicted in the film is called "Kumihimo", which literally means "come together", (other definitions show it as "the gathering of cords", it is thought that 'come together' is the original definition and 'gathering of cords' only came about as an association of the art form), it has a rich and what many consider an 'under-documented' history which originates in the 7th century.
Throughout it's long history, the art of 'Kumihimo' has had multiple uses, aside from jewellery, it has been featured throughout multiple clothing items for both aesthetic and practical use, including clothing laces for Samurai armours, assisting with the wearing of a kimono. This has resulted in many different designs for the braids based off the individuals desired use.
Methods of creating the braids have also been adapted, as the interest increased, it originally completed on a large, stationary loom, which can be seen in 'Your Name', and now in modern times there are loom discs which are small and mobile. It is difficult to describe the process of making the braids, as different designs require different techniques, however the idea of braiding the cord if very similar to the hair, over and under and across one another continuing to build and strengthen.
The video tutorial below shows a braid being created on the modern foam loom disc, designed for beginners:
~~~~~~
There are many elements of the braids: both the colour and actual braiding style, represent different aspects to an individual's personality. The way in which the wearer chooses to create their braid can showcase to society their gender, indicate social standing and show wealth.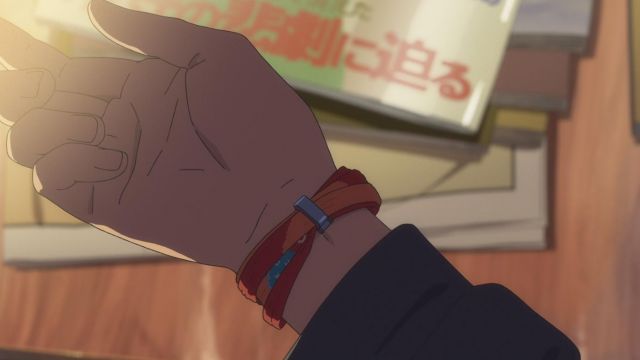 Within the film, the bracelet features red and orange (as well as a blue clip that holds it in place), these were chosen as the red is a reflection of "red string of fate". An invisible red string in East Asian mythology that is said to connect two people who are destined to be together, whether as lovers (in the case of the film), friendship or family. Though, it typically is linked to lovers. The myth suggests that an individuals has a cord attached to their pinkie and when you follow the string, it is connected to another's pinkie.
The braids are made with multiple cords, which makes them incredibly strong and difficult to break once completed. This aspect representing the strength and depth of relationships and the power of spiritual connections.
When conducting this research and learning about the myth of the 'red string of fate', I realised that I actually achieved my original goal of learning more about Japanese relationships in a much more spiritual way, rather than a physical sense which I had initially expected, but I feel that this allowed me, an outsider, to truly appreciate the culture more and gain a more authentic autoethnographic experience.
Japanese culture is beyond more than physical connections, their relationships have layers and additional complexities that are often indescribable, as they are simply emotions beyond words. So through being able to use symbols, such as the braided cords, is a way for the Japanese culture to demonstrate to others the depth of relationships and explore cultural symbols for outsiders who may struggle with concepts.
So this really helped form my epiphanies and show the connectedness between the two, it really highlighted for me the ways the film was allowing me as an outsider to experience the art of braiding and relationships, although I didn't realise the colour representation at the time, it was very obvious how important the braiding tradition was to the culture and as an outsider, I was allowed a look into that.
~~~~~~~~~
I, unfortunately, was unable to make one myself before the completion of this project, but as summer is approaching and I look for new hobbies, I feel this will be on my list. To further allow my appreciation for the time, commitment and meaning of 'kumihimo' to grow.